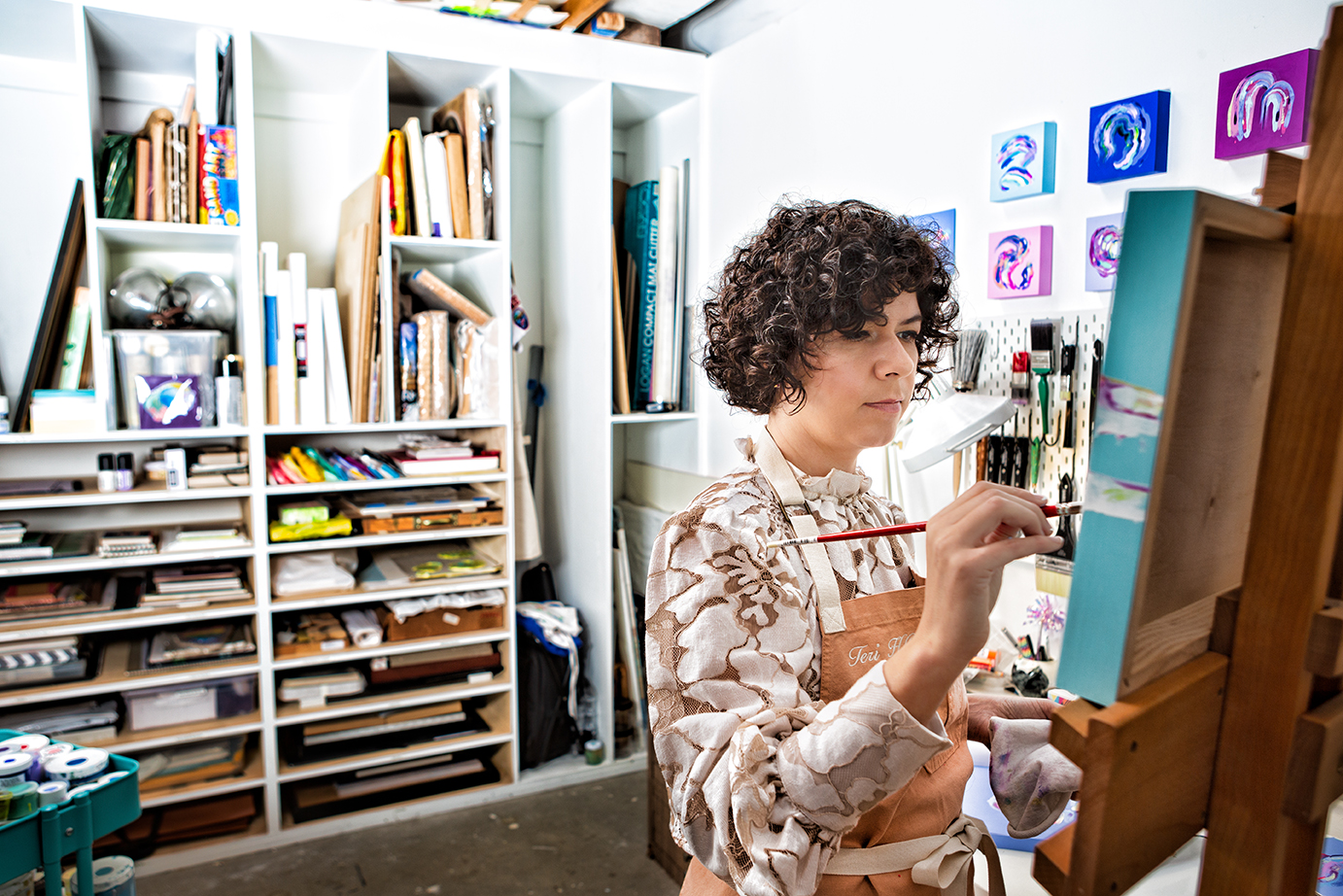 b. 1981, CA

Teri Hendrich (Cusumano) is a contemporary painter, animation color supervisor, and mother who paints poems inspired by relationships and the prism of feelings they evoke. Teri's methodical approach and calm attitude come through in the details, compositions and color palettes of her paintings. Based in Los Angeles, Teri holds a BFA in Illustration & Fine Art with honors from ArtCenter College of Design. She is a vocal pay equity advocate and passionate union leader currently serving as Vice President-elect of The Animation Guild. Teri has exhibited her work in galleries throughout the LA area as well as on the set of television shows for ABC and Disney+. Her collectors include various art enthusiasts ranging from animators to celebrity chef Rocco DiSpirito.
About the Art
As an LA native, finding meaningful relationships in a city of urban sprawl has been a lifelong journey. For this reason, themes such as desire and both the presence and absence of human connection, inspire me to create. Using calculated spontaneity and a mix of representational and abstract imagery, I create mesmerizing colorscapes which convey a quiet tenderness that speak directly to the soul.

It is with brushstrokes and color that my heart sings. My process starts with an intention that serves as my guide in the selection of custom mixed paint palettes that I create for each of my pieces. Mediums I work with can alternate from acrylic paint on wood or canvas to gouache and pencil on paper. An imagined space is indicated with a single, flat ground color. Whimsical yet touching narratives then emerge through the unidentifiable figures in my paintings while gestural swooshes of vibrant pastels convey the emotions of the scene.

With each of my works, I endeavor to give complex and indescribable feelings a tangible form so that I may impart a sense of connection onto my audience - something I've found to be so elusive in my life.


Education
2004 ArtCenter College of Design, BFA, Cum Laude, Pasadena, CA


Solo Exhibitions
2008 In Case of Emergency, Berri Good, Beverly Hills, CA


Group Exhibitions
2022 Wonderpets, Leanna Lin's Wonderland, Los Angeles, CA

2015 Intimacy, Swoon Gallery, Online

2012 Eat Your Art Out, Titmouse Studios, Los Angeles, CA

2011 Foreign Affairs, AR4T Gallery, Laguna Beach, CA

2010 Cannibal Flower, World Gallery, Costa Mesa, CA

2009 Human Pyramids, Ghetto Gloss Gallery, Los Angeles, CA

2008 I Am 8-Bit, World of Wonder Gallery, Los Angeles, CA

2007 Rock It!!, The Grind Art & Print Gallery, Mar Vista, CA

Wishful Thinking, Project: Gallery LA, Culver City, CA

Rising Artist Series, Atmosphere, Los Angeles, CA

C-Note, Project: Gallery LA, Culver City, CA

Friends of ISM, April Gallery, Costa Mesa, CA

2006 The Unicorn Show, Nucleus, Alhambra, CA

2005 All Grown-Up, Uno, Los Angeles, CA


Publications
2011 Super iam8bit, iam8bit Productions